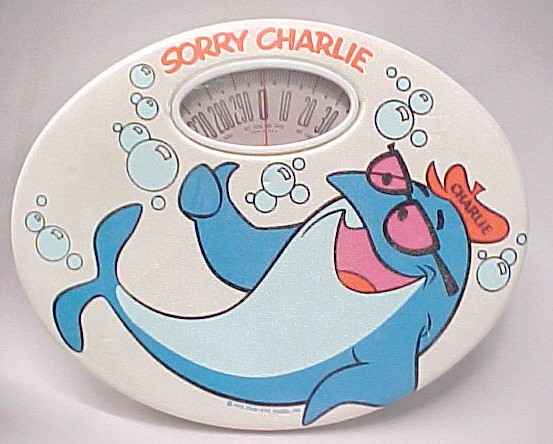 Under owner Wayne Huizenga, the Miami Dolphins have always been enamored with the big names, the headline-stealing moves. From Jimmy Johnson to Nick Satan, Huizenga has consistently brought in the movers and shakers who were, at the time, roundly considered to be the best fits for the franchise. This approach has failed time and time again, yet Huizenga couldn't resist giving this tried-and-blew approach one more chance when he tabbed Bill "Big Tuna" Parcells as executive vice president of football operations.
The first question to ask is, just how far does Parcells' power extend? What exactly does the executive vice present of football operations do? Parcells was pretty evasive when asked about his full duties at his introductory press conference, referring to himself as the "owner's designee." I'm not ashamed to say that I'm not fully aware of the term "designee," so I looked it up. The definition? "A person who has been designated." Thanks, FreeDictionary.com, that makes sense and certainly clears things up. So Parcells is someone who has been "designated, appointed, nominated or delegated" by one of his golfing buddies and neighbors in South Florida. Check.
So I thought I'd delve a little deeper into some of the quotes doled out by Parcells during his intro presser to examine just how I think his addition will affect the 'Fins:
*
"This is a talent acquisition business."
I don't think you could describe the National Football League any better in six words or less. Talent. Acquisition. Business. That phrase only begins to tell the story of why Miami is in the situation it is in right now. From Johnson to Dave Wannstedt to Satan to Cam Cameron, the Dolphins have unfailingly made the wrong moves, the bad trades, the unwise selections, the uncalculated risks.
One of Parcells's first moves was to can general manager Randy Mueller, and he did it quickly and decisively—without telling coach Cam Cameron. Read into that what you will, but there is a significant part of me that feels that Mueller got a raw deal here. He was handcuffed by Satan, and he began to make the moves that Satan was too egotistical and wary of his own record to make, the gutting of the roster that has been needed for five-plus years now. Mueller stayed on board when Cameron was hired, then traded Wes Welker, traded Chris Chambers, let Kevin Carter and other veterans walk. He was beginning the dirty work of remaking an entire depth chart, and because of his recognition of that need and his willingness to fulfill it, he was fired in the early stages of doing so? That's not really fair, but the NFL is the Not Fair League, and when a guy has one win to point out for an entire season, there's not much of a defense you can muster up for him. Plus, the selection of wide receiver Ted Ginn Jr. with the ninth overall pick and the decision to bring in linebacker Joey Porter at a huge contract number are questionable at best, further putting Mueller in the crosshairs.
"I've quit being ashamed of what I am … I'm a guy who loves football very much. I can't get the game out of my system."
This is a revealing quote for a guy roundly considered to be a mercenary around the league. He jokingly referred to his hopscotch trail from job to job and ultimate decision to join the Dolphins as "male menopause," but this quote could be an indication that he'll be around for the full four years of his contract. Also, it could be construed as a revelation that he is willing to sublimate his ego somewhat, which is something that Johnson and Satan simply refused to do, ultimately resulting in their respective downfalls. On the other hand, Parcells says he feels pressure to turn around the franchise; as a fan, that's what you want and need to hear.
"We must cut down our margin of error in the draft."
Um ... wow. That's like manna from heaven, especially when you read a sentence like "no player drafted between 1998 and 2003 is with the team." Read that again if you need to; it says everything that needs to be known about the state of the Miami Dolphins in the first days of 2008. I maintain that it's one of the most shocking and revealing statistics that I've ever seen. You are talking about seven drafts in a seven-year period that yielded not only no starters less than 10 years later, but no depth, no contributors, basically no players who should be in their primes right now.
"Obviously, there's some things to be done. But I, quite frankly, have been in this position before."
The Patriots were 2-14 when Parcells took over in New England; they won the AFC championship four years later. The Jets were 1-15 when assumed the reins; they came within a game of the Super Bowl in his second season. Suffice it to say that the Tuna has swum (swam? swimmed? swarmed? swallowed? swamped? swashbuckled?) in these waters before.
Huizenga wanted someone who would make the hard decisions for him in terms of who can stay and who needs to go. To the owner's credit, he saw the enormous mistake he made in giving full personnel control and decision-making to Dave "The 'Stache" Wannstedt, because Huizenga liked him on a personal level and without a true general manager in place, it fell to Huizenga to have to shitcan him – a year too late, honestly. Parcells is a calculating personality who has his own "guys," but if the past is any indication, he won't let emotional ties or beliefs affect his ultimate decisions on hirings and firings.
Mueller found that out the hard way, and Cameron ("
Wham, bam, thank you, Cam
") is likely to at some point this week. Parcells gave Cameron an opportunity to basically re-interview for his job on New Year's Day, and Tuna is said to still be undecided, but the fact that coaching names like Tom Coughlin, Romeo Crennel, Maurice Carthon and Todd Haley are being linked to the Dolphins isn't a coincidence. Parcells will want to bring in his own guy, and if he doesn't land him, he may yet give Cameron another season, though I'd put those chances at about 15-85 against Cam-alot. The hottest name is Tony Sparano (What the hell? Will he bring in Big Pussy as defensive coordinator? Chrissy Moltisante as offensive quality control assistant? You can't make this shite up), a 46-year-old assistant head coach, running game coordinator and offensive line coach for the Dallas Cowboys. Sparano is also interviewing for the Atlanta Falcons' vacancy, making it a ticklish timeframe for Parcells. The Tuna would most like to hire scouting chief Jeff Ireland from the Cowboys as general manager, then let Ireland fire Cameron and go after Sparano, but can all that be accomplished within the league's mandated timeframe, since Dallas is in the playoffs? We shall see.
The future of defensive coordinator Dom Capers will be another interesting factor; he will either be forced to implement more of his 3-4 principles or be told to take a hike. He said that injuries forced him to dramatically scale down his defensive attack and approach in 2007, and he has a point, but that excuse won't fly with Parcells manning the decisions desk. Capers's mishandling of Porter and inability to stop the run certainly makes retaining him iffy at best, especially if a new coach is brought in.
"I'm interested in good character people. I don't want thugs and hoodlums on the team. I don't want bad character guys. I don't want problem children. I'm more willing to let someone try to address those things with other people. I want to get a good base, good character people that are dependable, reliable employees that come to work with the idea of trying to win football games for the Miami Dolphins."
I'm as big and understanding a Ricky Williams fan as you'll find, but this doesn't bode well for No. 34. Or Keith Traylor and the 15 other veterans who bitched, moaned and hurt team chemistry throughout this season. Cameron did a good job of ridding the roster of many of the problem children, and you can bet Parcells will find the rest and get them on the next plane to Cincinnati.
"I remember taking over another team, first went in there and looked at the medical reports and the dossier was literally almost four or five inches high of just medical reports.I took that into the team meeting with me when I met with the team at first and said 'Now, there's something wrong here. Either the athletes aren't good enough to keep from getting hurt, or we're not in good enough condition to avoid that. But whatever it is, this dossier is going to be about 10 percent of what it is now next year.' I don't know what the reasons for everything is, but I know that has to be changed."
How do you evaluate a roster that includes so many who never got a chance to play or perform? That will be a huge task for Parcells. Sixteen Dolphins players ended the season on injured reserve, including five (count 'em) safeties. Bad luck? As the author of the famous quote "You are what your record says you are," Parcells doesn't much believe in luck. He'll dig deeper to find out just why in the hell players drop like flies in Miami. Whether that involves a change in practice routine or number of repetitions or types of drills, a healthier, stronger squad will be a welcome change for the Dolphins. And hopefully, when he's done, Parcells will make a stop in Raleigh to find out why NC State has suddenly turned into ACL University.
"If you make a pick at that spot and you're wrong, it's economically a very bad thing for quite a while … We won't be influenced by sentiment or mock drafts or some of these cottage industry gurus that collect information from everywhere but the practice field. No disrespect intended."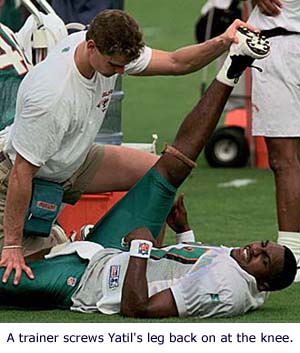 Hopefully, this means that the days of Yatil Green, John Avery, Jamar Fletcher, Jason Allen, etc., are over. The Dolphins are the poster children for poor drafting over the past decade, and Parcells aims to scale down on the number of guys scouted and assessed, fit prospects more into what their position asks of them and what their positions asks of them within the Miami Dolphins scheme. If it sounds like the Patriots blueprint, it's because it is; Bill Belicheat was a disciple of Parcells long ago.
The goal is to acquire talent, install a structure that will enhance that talent, and incorporate a coaching staff that will maximize that talent. Ignoring the following three keys—as identified by Parcells—can set your franchise back for years, literally:
1) Character and mental makeup
2) Whether he fits Parcells's expectations for the position he plays
3) Skill level
Sticking to those maxims has helped make Parcells renowned for his ability to spot and cultivate talent. There are plenty of examples, but the most recent one is Cowboys wide receiver Patrick Crayton. There had been talk of Parcells tabbing soon-to-be free agent Crayton to join the 'Fins in Miami. That talk ended when Crayton inked a four-year, $14-million deal with the Cowboys to stay in Dallas, but that also gives optimism to Miami fans when you consider that Parcells selected Crayton in the seventh round out of a directional geographical oddity school, Northwestern Oklahoma State.
I'll look closer at April's draft and Miami's No. 1 overall pick as it looms closer, but bringing in Parcells aboard ensures that the 'Fins will pretend to fall in love with Arkansas's Darren McFadden (he's already used to playing for pay for the Razorbacks), then dangle the top spot to whoever else covets the running back as well, hoping for a trade back a few spots and grabbing a few more picks. If Miami stays at No. 1, LSU defensive tackle Glenn Dorsey is the most likely candidate for the Dolphins; if Parcells can pull off a deal, Michigan offensive tackle Jake Long and Virginia defensive end Chris Long will be high on the wish list. Following on the (sprained) heels of the
Ginn selection
, anything besides a special-teams gunner or long-snapper would be kosher with me.
DEVIL'S ADVOCATE SECTION
If you're a Miami fan who prefers to feel that everything is puffy clouds and dandelions in Dolphinsland now that Parcells has arrived, you may want to skip this section. If you're a sad realist (a.k.a., a Dolfan), much of the following will be expected and anticipated:
Parcells is, like, really old.
Some media outlets described Parcells as mumbling at times and noted that he had trouble hearing certain questions, asking that they be repeated. Does he have the stamina to turn around a rock-bottom franchise at age 66? Fill in your own old-man joke here.
Expectations can be dangerous.
The
Miami Herald's
Armando Salguero wrote, "Big talk rings hollow in these parts. Super Bowl promises are as worthless are promises never to become the coach at Alabama. In recent times, the hard sell has only set the Dolphins on a course for a hard fall." Parcells can coach circles around pretenders like Johnson and Satan; can he excel as personnel chief and supreme decision-maker?
"Desperado" shouldn't be your team's theme song.
You could consider Parcells a desperate, last-gasp attempt at relevance by an owner desperate for success, and you would have a valid point there as well. How about this dose of reality from
David Hyde
of the
Ft. Lauderdale Sun-Sentinel
:
"Either way, here we go again, and you can conjure up Parcells into whatever you want to make him today. You can call him a two-time Super Bowl champion who has coached winners at every stop in his career. That's true.
"You also can say he's also a 66-year-old retiree who hasn't won a playoff game in a decade, who says he's too old to coach anymore and has never before worked in the capacity for which he was hired. Because that's true, too."
Points taken. But at the very least, Parcells equals hope for the future, and that's something that has been missing in Miami for years and years. It' like the sheer weight of the genius of Don Shula and Dan Marino held down the successful end of the seesaw for so long that once that weight was gone, everything slid down to the bottom of the seesaw, into the pee-soaked sand littered with grumpies left by an army of tired and soiled toddlers. Or something.
So now it falls to Parcells as the latest in a long line of those who think they can pull that goddam sword out of that stubborn freaking rock.
"He's a guy who fixes problems," said defensive lineman Vonnie Hollliday, "and we have a big problem here."
"We're all waiting to see," added Porter, "we'll wait for him to work his magic."
Magic or not, problem fixer or adder, talent spotter or bust finder, old or young, with the Tuna now on the hook, at least now there is something worth waiting to see in Miami.
*
Just a warning: This is really fucking long.