When you're one of the most storied programs in the history of college basketball, when you're the birthplace of basketball in the South, when you're the founder of Tobacco Road, when you're home to the Atlantic Coast Conference's greatest player ever … being irrelevant hurts. To be considered an afterthought, or worse, a laughingstock—and absent from any discussion on Selection Sunday—is unfathomable. And to be the very worst team in the respected league you played a vital role in founding is unacceptable. Following the Pack's 15-16 performance, including a 4-13 effort in league play, legendary State coach Everett Case is unquestionably rolling in his grave.
Yet even Coach Case would recognize the limitations of the 2007-08 version of the NC State Wolfpack. From
Brandon Costner's
bizarre disappearance to Ben McCauley's soft play to Courtney Fells's complete lack of floor sense to Gavin Grant's ability to kill any run with a head-shaking play, the Pack meshed as well as a screen door on a submarine this season. As always, the fault lies with the coach, and
Sidney Lowe
seemed as puzzled as any onlooker by State's dispassionate play and complete
lack of heart
. To lose is one thing; to lose without maximum effort is unthinkable for a program that has long built itself on the foundation of outworking foes as the perpetual underdog.
While that deficit of desire undoubtedly lies at the feet of Lowe, it also fair to embrace the reality that he is dealing with a mismatched hodge-podge of a few of his own recruits and a majority of leftovers from coach Herb Sendek's regime. Rumors and speculation swirl around chemistry issues between Lowe's newcomers and Sendek's holdovers that caused a fissure in the team, but the worst problem results from Sendek's players being better fits for a Princeton-style offense and Lowe's recruits being better-equipped for an isolation-heavy, NBA-fashioned attack. The final result is the core problem that Wolfpack hoops faced this year, when distilled and boiled down to its essence:
State's best athletes had zero basketball intelligence. State's players with a high hoops IQ were unathletic.
Rectifying these issues will come down to nothing more and nothing less than recruiting, recruiting, recruiting. Lowe's first full class showed ample signs that he knows what he's doing on the recruiting trails: J.J. Hickson is a man-child who could be one and done to the NBA; Tracy Smith is an intriguing four man in development; Javy Gonzalez had enough good moments in his trial by fire as a freshman point guard in the ACC to leave one expecting a solid career in the league; and Johnny Thomas was considered the team's best athlete and defender before suffering a season-ending knee injury prior to the campaign. Next year, the Pack welcomes exactly what it needs: backcourt help. Indiana product Julius Mays is a proven winner as a talented combo guard, while North Carolina native C.J. Williams is a versatile swingman with the game to compete right away.
Some feel that Lowe will—or should—turn to a two-ballhandler starting duo in 2008-09, assuming that steady Farnold Degand returns to form following the knee injury that knocked him out for most of this year. A backcourt of Degand and Gonzalez or Mays would allow NC State to compete against ACC opponents that rely extensively on two-point guard and three-guard lineups, with Trevor Ferguson lending depth and three-point accuracy at the two. That would also free up Fells to take over for Grant as the small forward, a move which would minimize Fells's weaknesses (turnovers, ballhandling, shot selection) and maximize his strengths (athletic ability, defense). Mixing in Williams and Thomas (though his rehab has not gone as well as the Pack staff had hoped) would give the Wolfpack some intriguing possibilities at the three.
In the frontcourt, Costner, McCauley and Dennis Horner all regressed in a big way this year, although you would need a room full of psychiatrists, a Ouija board and some peyote to figure out why. Rumors persist that Hickson will take his game to the NBA and Costner could be out of town as well, which would leave McCauley, Smith and Horner to handle the bulk of responsibilities at the four and five positions. In such a scenario, rugged walk-on Simon Harris would have to play a larger and somewhat unexpected role. The resulting lack of depth would seem to further justify any decision to lean more heavily on smaller, three-guard or lineups.
Where does that leave guard Marques Johnson? To be blunt, Johnson has to be willing to transform his entire game and turn himself into a strong defender and zone-busting set shooter. He doesn't possess the foot speed or ballhandling ability to compete with opposing point guards, but a dedication to improving all aspects of his floor game could allow him to find minutes at the two.
Could State actually be a better team if Hickson, Grant and/or Costner are no longer around? Amazingly, the answer is yes. College basketball is a guard-driven enterprise, and transitioning Fells to small forward to make room for Degand, Gonzalez and Mays to hold down the backcourt could actually improve the Wolfpack at three positions: one, two and three. Running some high-post sets through McCauley, as State did extensively in 2006-07, could also offer a nice change of pace to counter some zones.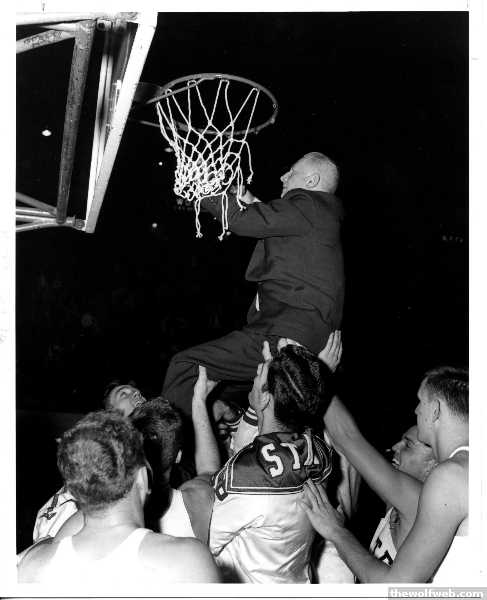 No matter what Lowe elects to do or how he decides to approach restructuring his offense, there's no way around the fact that he has to find a way to get more ballhandlers and shooters on the floor. To that end, future recruits Scott Wood and (hopefully) Lorenzo Brown will be ideal fits for State in 2009-10, although that admittedly seems and feels like a long way away. This season, the Pack was hamstrung by an inability to penetrate the defense, struggles in successfully feeding the post, dismal perimeter shooting, a lack of skill in handling pressing defenses, problems in running effective fast breaks and difficulties in moving the ball in the half court without turning the ball over. NC State will have to improve in transporting the ball (in Sendek's words), making teams pay for double teams by knocking down wide-open treys and attacking presses by finishing at the rim instead of just crossing halfcourt.
Achieving these goals won't necessarily translate into a top-three finish in the ACC or even a NCAA Tournament appearance in 2008-09. But it will give State a more competitive, dynamic squad next year, one that would make Wolfpack Nation proud again … including one Everett Case.